URBAN LOCALE
FRESH OFF THE LINE IN LISBON / A CEVICHERIA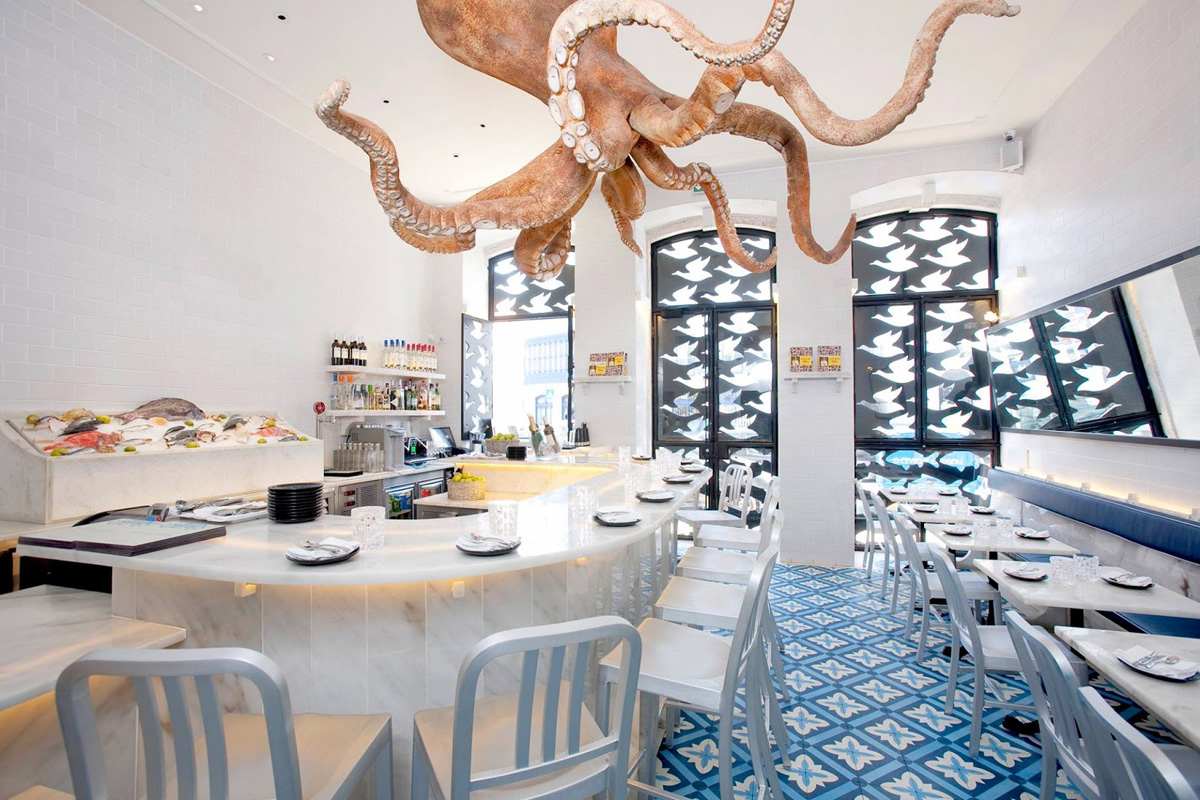 Photo by www.ostais.pt
In our contemporary hyper-connected world, no one opens a restaurant or bar without a visual, marketable asset that attracts interest from passers-by and patrons — who stop in their tracks to snap and upload to social media platforms. Within the central tentacles of Lisbon's fashionable Principe Real district, A Cevicheria hit the jackpot with their giant octopus. Constructed from foam, the Instagram-famous mollusc has dominated the interior since opening in 2014.
But you can't survive on gimmick alone. And in a city with a pastelaria (snack bar) and churrascaria (barbecue) on every corner, it was a risk to pursue specific Peruvian cuisine. Step forward Kiko Martins, a Cordon Bleu-trained chef and highly regarded within culinary circles, who already owned nearby O Talho, but wanted to develop new ways of eating fish. Five years on, the fact that they are open daily till midnight — with queues commonplace — ranks A Cevicheria as one of the best eateries in the Portuguese capital.
Typically made from fresh raw fish, ceviche is cured in citrus juices and combines chilis or peppers to season with salt, cilantro and chopped onions. We didn't have time to splurge on the six-course tasting menu (€43.80), so shared the Pure Ceviche (croaker, mashed sweet potato, onion and wakame seaweeds) and Portuguese Ceviche (codfish, octopus, potato in textures, parsley and egg yolk) — and then were envious of the mini surf & turf sandwich (pork belly, shrimp steak and sweet potato bread) on a nearby table.
A barman cleverly prepares another Peruvian delight — the Pisco Sour cocktail — in the window hatch to entice the street with the heavenly coming together of Pisco (brandy), lime juice, egg white, sugar syrup and Angostura bitters.
Secret share: Skip dessert and head to Mú, the Italian gelato shop three doors down and devour in the adjacent park.
No reservations, open every day from 12h30 to midnight.
Rua D. Pedro V 129
Lisbon, 1050-046
+351 21 803 8815
Follow on Instagram at @a_cevicheria_chefkiko
By Barry Havenga